I have just returned from the Cannes Film Festival. I had sworn to myself that, the year of its 70th anniversary, I would mount the red carpet prior to the screening of my first feature film. Well, I did walk up the red carpet – but as a guest: hardly my dream. My film was not in competition; in fact it has not yet been made. Nor does it have a producer.
For as long as I can remember, I've always wanted to make films. And thus several years ago I turned around my life: from child protection in humanitarian field missions to film sets. I was at the crossroads searching for my own path and there was no other choice: it was filmmaking for me: to tell stories, to translate emotions into images and images into emotions.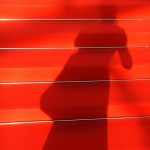 Three days in Cannes. Three scripts under my arm : a documentary about drag queens in Canada; a feature film about photography, which I wrote in English and had already pitched a dozen times in Los Angeles (yes, abroad: the States, Canada, Italy…. I do everything I can, whenever I can, wherever I am. That's my golden rule.) And, last but not least, a feature film about the relationship between a mother and daughter, and an impossible love story with a background of social malaise – my most personal work; a tribute to my own mother. Several well-known French actors support it and I'm still looking for a new producer for that one. In other words: my glass is always full.
Of course, it is always difficult to make a film – it's like driving blindfolded and handcuffed on the road to hell, especially when you start in this business and have no contacts and spend a very long time building up a precious address book. And, for a woman, it is even worse. Each year, around 50% women leave cinema schools with a diploma, and yet only 23% become professional directors (CNC Report). But what happened to the others?
My combat over the last few years has been to make my films live beyond the script stage, but I have heard so many stupid remarks; remarks that bring you to the point of losing hope: "This is really too ambitious"; "You haven't done anything before", what about the 5 short films I did before?  "You're still a bit too green", whatever that means? And my all times favourite : "Sorry, we have a woman already".
With time, I have become outraged. How not to be when looking at the official photo of Palme d'Or directors released by the Festival. It features a line of 50ish white men and, at the very end, a little shy and uncomfortable, the incredible Jane Campion: the one and only woman to ever receive the Palme d'Or and, even then, that year, she shared it with Adieu Ma Concubine's director, Chen Kaige. (A woman doesn't deserve an "entire" Palme d'Or?). Only one woman. No non-whites. And there are several directors who seem to have an automatic place in the official festival competition, as they keep on coming back every 2-3 years (I'm not even joking!).
Truly, the whole situation is depressing. Time passes and I can't move on; I mean that not one of my films has been shot. I still believe in them. Nothing can stop me.
I believe in equality; therefore I'm a feminist. How can one not be nowadays? The word is seen too often as pejorative. It shouldn't be. To be a feminist is simply to defend equality.
This year I had fewer meetings than usual in Cannes, though I attended several events about women in cinema, especially through EWA (European Women's Audiovisual Network) as well as many contacts in the coffee bars of the quieter streets behind the Croisette. There I met some fascinating people: a Bollywood woman producer/director (only 5 in the whole of India); a woman DP (Director of Photography) struggling to get distribute her documentary about women in Somalia; an actress over 50 desperate to find work (After 50, women tend to disappear from the screens). I had registered for the Women in Motion conferences but my invitation was never confirmed. What a waste and a disappointment: for, in fact, I am truly a Woman in Motion.
I have decided: I shall speak up and write of my fight to make my first feature film. I shall describe the path I have walked – step by step – sometimes one step forward and two steps back. I shall continue along the rocky path leading to the making of my first film. I hope this will be an incentive to all those women and men, and those who lack encouragement, to all those who doubt, who feel like giving up… And it will also be my own driving force.
My story continues – I am Naty Bienvenu – Director – Writer – Actress – Feminist.